There are many things I love about life as an Expat but bureaucracy is not one of them and several bureaucratic issues have come up this week.
Usually bureaucracy is related to the host nation - I recall the hassles getting our Nigerian multiple entry visas when I was a child (until then our passports filled at an alarming rate with multiple 30 day visas, one each holiday visit). I remember my Father having to get a certified translation of his (Latin) degree certificate when we went to Venezuela. Kazakhstan was a nightmare - everything (literally everything) had to be notarised and apostilled. This week the bureaucratic issue have been 'back home'.
Our older two kids got their student visas back today. Our son's runs to then end of the school year when it can be renewed fairly easily. Our daughter's passport, however, runs out just before the end of term and the visa expires one month before that so we will have to renew it ahead of time – either by post or going back to the UK and arranging a one day appointment.
We also have to arrange a passport for our new baby as, at the moment, she is in Malaysia on just her birth certificate and we cannot go anywhere, in fact, we are still not sure if we can go elsewhere in Malaysia with just her birth certificate as Sarawak has separate passport control to the rest of the country. We would like to have some weekend trips so we are trying to sort that out at the moment (the airlines say yes but to check with immigration).
Anyway we made enquiries with the Embassy before she was born and we were told it was a simple online process. I assumed this would mean that my Husband's passport and birth certificate details would be verified electronically and we could email a photograph and countersignature verified by the Embassy staff, the passport would be prepared and then sent to us.
If only it were that simple. We completed the application form and paid the (exhorbitant) fee only to find that we have to send the passport and supporting documents by mail. Our passports are very necessary here in Malaysia – my husband travels to the Peninsula approximately once a month and we need it for identification if we go to the bank or even collect something from customs at the post office. We are calling to check what we should do – we doubt we can use mine as parental ID as I am not a British Citizen. It would be so much easier to just go to the embassy in KL or over the border in Brunei – this online process is meant to be easy but I suspect it boils down to cost cutting. Still it is easier than renewing my passport last year – I had to go to Moscow to make the application as the documents never reached me in Kazakhstan (and no way was I entrusting my passport to a courier service that looses application forms).
Before we went to Kazakhstan I stocked up on copy birth certificates for my husband and the children as well as our marriage certificate. I have only one copy of mine – my uncle tells me that Dutch certificates must be applied for in person so I will have to wait until we visit The Hague again to get more copies. I am quite meticulous about keeping copies but somehow although we have many copies of my middle daughter's birth and our marriage certificate we have managed to run out of our son and my husband's birth certificates. We used the last copies to get working/student visas here. So we have to get certificates sent to Malaysia before we can send them back to the UK – crazy! The UK does all the road tax renewals document checks on line so why not this?
It will all get sorted with time – the frustrating thing is not knowing when we can travel as a family again. In the meantime there are worse places in the world to be stuck!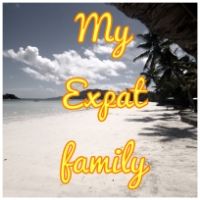 Update November 2014
After some unhelpful email correspondence (which directed us back to the website which did not answer our questions) we spoke with a very helpful lady in the UK. Apparently the passport office will accept a full copy (front, back and every page) of my husband's passport together with a letter explaining why we did not include the original. We do not have to have the copy certified. We can send off for our older daughter's renewal at the same time and they will (apparently) process and return them together. Thank you Lorraine in the Passport Office for being so kind, understanding and practical. It just shows that technology can be helpful but you can't beat the human touch!
Click on the picture for more information on the challenges of expat life.